In the family space, smart door lock has not been applied much, but in the field of hotel and restaurant, the installation of smart door lock today has been widely applied. Besides meeting the needs of safe and convenient access control, it is also a necessary condition to evaluate the quality and class of the hotel for customer service.
In fact, the smart hotel lock solution has up to 90% of customer satisfaction for business services.
Advantages and core values ​​of smart hotel lock solution
It can be said that installing smart door locks for hotels creates the most pronounced value in terms of customer service quality and customer satisfaction and satisfaction. Specifically:
1- Safe & modern
The usual door lock not only takes time to close, open the door. But also cause unsafe psychology for customers when the room next door opens to make a "creaking" sound. In particular, some locks have a difficult way to open, having to fumble for a few minutes to open the door. Sometimes the door is closed but it does not feel safe, the lock easily slips out of the joints, etc.
Smart door locks has a very strong design and structure. Besides opening the door very quickly in about 1-2 seconds, it also has automatic door lock mode. Automatically when customers closed the door slightly. In particular, the device also features anti-intrusion, when a stranger deliberately opens the door. The door lock immediately recognizes and automatically disables the opening information receiving feature. Strangers will not realize their evil intentions.
Solution smart hotel lock today is also seen as a basic condition to evaluate the quality of hotel services. Hotels with smart door locks will create credibility and excitement for customers. It is customers will feel the value, thoughtfulness, professionalism, modernity and level of service. That is the core of the success of a business, the business in the field of restaurants and hotels.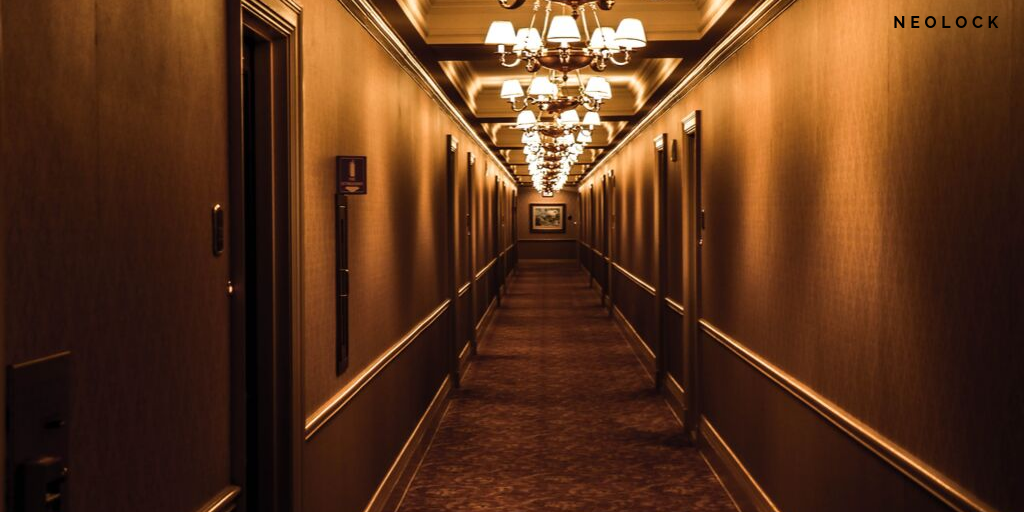 2- Smart opening with many ways
If the normal door lock has only one way to open the door, the smart hotel lock solution has up to 5 ways to unlock, just suitable for the manager, and very friendly to all customers. Especially for customers who are elderly, poor visibility, reduced memory, no longer flexible operation, opening the door with a magnetic card is most appropriate.
3- Easy to manage This feature is extremely useful for businesses, easily manage guest access. From there it is possible to measure customer behavior. And there is a way to adjust the service for the better.
4- Luxury, high aesthetics
This feature is certainly indispensable for the hotel business, so manufacturers of electronic door locks are always focused on product design. Especially Dahua and Samsung - these two companies have an outstanding variety of models. And the product design line is delicate, soft and luxurious.
5- Long life & Competitive price
The strong development of electronics industry, especially security surveillance. Has expanded many opportunities to own the door lock system for hotels at low cost. Usually a smart door locker for a cheap hotel. Only from 2,500,000 ~ 7,000,000 VND depending on the features of the device.
Their average lifespan is from 5-7 years (About 100,000 times open). However, businesses can extend product life by regular storage and cleaning.
Which smart door lock's brand should I buy for hotel?
Currently there are quite a few vendors that provide smart door locks for hotels at very cheap prices. Besides high quality products, it is impossible to avoid some lines of unknown origin. Therefore, businesses need to understand the product carefully to avoid causing trouble for themselves. Especially for the customer service industry, this is extremely important.
Neolock smart door locks for hotels have a modern, intelligent design and flexible applicability with many different ways to open doors on the same device such as:
→ Open the door with the application
→ Open the door on the software
→ Open the door with an IC Card
→ Open the door with a digital password
→ Open the door with a traditional mechanical key
Note: The opening with password and fingerprint is only suitable for hotel management, not suitable for guests, customers using IC Card are the best.
Contact Neolock right away to get a lockout pattern that best suits your hotel style!
For more information, please contact Neolock
Email: info@neolock.vn